About Sedona Red Rock Tours
---
Sedona Red Rock Tours was recently honored by the U.S. Forestry Service when they awarded us with one of their new Metaphysical Outfitter Guide Permits. They only gave out 5 permits and that's it for the next 10 years! This is major recognition by our government of the powerful energies here in Sedona and Sedona's role as a spiritual destination for people from around the world. We are grateful that they have recognized our role as qualified representatives of The Spirit of Sedona. This means we can take YOU to the mystical vortexes for a truly authentic Sedona experience!
Thank you for an amazing tour of the vortex. Greatly appreciate my tour guide's depth of knowledge and insights. I highly recommend your services to all my family and friends. Your level of professionalism and genuine care for your clients is greatly appreciated. Thank you for a wonderful, spiritually uplifting experience."  –Jacqui, Sydney
Our Sedona Tour Guides
Akal
Akal is one of our Sedona shamanic guides. Akal has studied with shamans around the world–the Cree Elders in Canada, the Curanderos in Costa Rica, the Ayahuasqueros in Peru and many multi-dimensional Wisdom Keepers in Sedona. He was a student of Osho and studied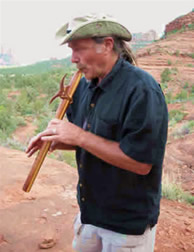 White Tantra and Kundalini Yoga with Yogi Bhajan. His studies have included humanistic psychology, Kabbalah, Keys of Enoch, alchemy, the Mayan Calendar, Sufism and various other spiritual, mystical and metaphysical teachings. This makes his sharing very diverse, unique and expansive.
Akal was well read, informative in not only spiritual endeavors, but practical ways to make life richer. He has changed our thinking and we are blessed to have met him."  –Brenda
Akal is a veritable library of ancient knowledge and esoteric information. He is a wonderful guide and each tour with him is a sacred ceremony. His guided meditations at the vortex sites have been called profound and transformational. His drumming and chanting will transport you to a higher plane.
We just want to say thank you, Akal for making our trip amazing. We are truly blessed and we will keep you in our hearts forever!" — Kimberly, Denise, Lisa, Colorado
Akal has been exploring the trails and back country of Sedona for a long while and always knows great places to visit for our guided hikes of Sedona. Akal is our "go to man" for all things spiritual and Sedona. He leads vortex tours, chakra tours, Medicine Wheel tours, meditations, special ceremonies, spiritual counseling, aura clearing and chakra balancing, soul retrievals and so much more. Akal's knowledge of photography makes him a very useful and informative guide on our Photography Tours. He is also a gifted composer, with many available CDs, having composed music for theatre, dance and video.
Akal lived in Costa Rica for 8 years and was a co-founder of El Santuario de La Luz with his wife, Iala. He lived off the grid and reforested 24 acres of rainforest. He was the local massage therapist and chiropractor working for mangoes and bananas. He also ran an Internet cafe and was the founder and guide for the Manzanillo Beach Sunset Horse Tour Company. Before that, Akal toured for 9 years with the Mother Earth Children's Theatre Company in Canada playing the part of Mr. Music. The shows entertained, enlightened, educated and empowered children about the environment.
Akal is also available for spiritual counseling sessions via Skype or by phone.
Akal was fantastic! He made my spiritual experience unforgettable! He took the time to share his knowledge and provided guidance. GREAT person! –Lidia Gorsline
---
Patricia
Patricia was so informative. It was transformational." — Mary, NY
Patricia is a sweet soul, deeply connected to nature and the Spirit of Sedona. She is a gifted yoga and Pilates instructor and has several fitness DVDs available.
Her study of yoga awakened her to the ancient science of Ayurveda. She has delved deeply into this tradition and is always amazed at how insightful and inspirational these teachings are in our lives. She delights in revealing the truth of a beings essence and nature through the doshas and teaching others how to balance and evolve using this powerful system.
Patricia loves to hike the trails of Sedona and share with others the beauty and splendour that is Sedona. She also teaches meditation and journaling.
Patricia is also available for spiritual counseling sessions via Skype or by phone.
Our tour of the vortex was amazing. Patricia was a wonderful guide. She was very personal, informative, and spiritual. We especially enjoyed her meditations and her energy. I highly recommend this tour to anyone who wishes to have a very special vortex experience. Looking forward to returning in the future.
–Clay and Nelson
---
Bonnie
Bonnie shares the gift of how we can open and integrate our energies so we can lead balanced lives in harmony with nature and the Universal rhythm of life.
With her daughter, she is the co-director of the Center of Creativity and Balance. She teaches T'ai Chi and Qi Gong
and is a certified Jin Shin Jyutsu practitioner and instructor. She is also a Reiki Master, an internationally exhibited artist and a published poet.
Bonnie leads powerful, shamanic vortex experiences, Medicine Wheel tours and ceremonies, chakra tours and hikes. She also does Reiki, Jin Shin Jyutsu, soul retrieval, past life regressions, meditations, drum journeys, sacred journaling, aura clearing and chakra balancing. Time spent with Bonnie is a great blessing.
Our Sedona Sage Bonnie was very knowledgeable. We enjoyed every minute of our time with her." –Tonya
---
Sharon
Sharon enjoys helping people improve their lives though yoga and Ayurveda. She fell in love with yoga while living on the North shore of Oahu in the early 70′s. As a massage therapist, Middle Eastern dancer and Iyengar-influenced yogini, she brings an earthy, open quality to her tours. She is a wealth of information, solid instruction and humor.
Sharon has her 500-hour certification with Yoga Alliance. She is a member of the International Association of Yoga Therapists. She is certified with Yoga of the Heart which is a cardiac and cancer therapy program. She is also a certifed Thai yoga massage therapist. And she is certified with the ASIS Massage School for both Ayurveda and yoga. She brings all of this plus the wisdom garnered from 30 years of teaching and guiding others. Sharon lead yoga hikes, chakra tours and dosha tours and is an Ayurvedic consultant.
---
Kazandrah
Our psychic, Kazandrah, brings over 30 years of experience in tarot, clairvoyance and the metaphysical healing arts to each reading. Clairvoyant and a physical medium from birth, she began in the early 70′s to develop her natural gifts. She is an ordained minister, a teacher, healer and a guide for your spiritual growth who focuses on your soul path and ascension process.
The focus of a reading is to clarify your spiritual purpose and to balance your entire being by connecting to your soul guidance. In a reading, your gifts and strengths are highlighted. Kazandrah offers ways to clear blocks to your soul fulfillment and gain clarity about your guides, guardian angels, and life purpose.
---
Our entire experience of Sedona Red Rock Tours was EXCELLENT. Iala provided superior customer service from our first call answering all of our questions continuing through the follow-up after our tour.

Akal was extremely knowledgeable and personable. I loved the commentary and delivery. I was concerned about my physical ability to see all that was offered. Akal was very gracious with me encouraging me to stretch, respecting my limits, and provided an amazing experience. Our entire party enjoyed the event and recommend everyone book Sedona Red Rock Tours! The best! –Charlene S.