The Sedona Medicine Wheel Tour
---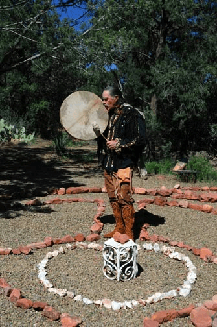 The Sedona Medicine Wheel Tour is a very special Southwestern experience. The Sedona Divine Heart Wheel, The Thirteen Moons Wheel, The Ascension Wheel and the Buddha Wheel are all medicine wheels found in Sedona. On your tour, you will visit a selection of these awesome, private medicine wheels which are not accessible to the public.
The tour includes Medicine Teachings and you will learn about animal guides and their meaning in your life, including local Medicines like the Roadrunner, the Raven, the Snake and the Phoenix.
Sedona Medicine Wheel
There will be sacred drumming and songs, smudging and aura clearing, Calling in the Directions and a ceremony to celebrate you and this time in your life. This is a wonderful tour for all ages.
My mother and I had the most amazing experience touring the different vortexes and medicine wheels. Our tour guide Akal was awesome and very knowledgeable of the Native American traditions. I would recommend taking this tour with Akal as he will make your spiritual journey most memorable."
–Denise G
To book your Sedona Medicine Wheel Tour or for more information, call us at (928) 282-0993.
---
The Medicine Wheel is the cathedral of the Southwest. It is a sun dial and it marks the seasons and the movements of the sun. It also marks the directions and the elements. In fact, it is a rock teaching guide. As you walk the wheel, you walk the day, the year, a lifetime. There are many secrets hidden in the wheel. Join us and learn a few. A Sedona medicine wheel initiation is a powerful experience.
Ah ho! Step into a medicine wheel today and experience a timeless and transformational Medicine Wheel Ceremony with our shaman guides.
---
Life changing! Akal is truly gifted … and he tailored the rest of day around my struggle and helping me find the answer that was right before my eyes, but blind to me. He also engaged my husband in his own language, linking the three of us together in a higher way. He offered a shamanic ceremony to me which was incredibly healing. I owe him and Sedona Red Rock Tours more than a simple thank you."
– Brenda Erickson
---
The Sedona Medicine Wheel Tour Rates
Total fee for up to four people per tour:
2 hours – $240.
To book your Sedona Medicine Wheel Tour or for more information, call us at (928) 282-0993.
Or you can email us at: SedonaRedRockTours@gmail.com.
In addition to our tours, we also offer Sedona vortex retreats.